Ah, it's a cool site filled up with still horny and sexy granny milfs. When looking at these real fuckable golden grannies a cock doesn't need a Viagra, it needs more older pussies.
Older women try just about everything to reverse the aging process. They'll do any exercise they can do, wipe any cream on their bodies, take shots of Botox to random areas of their bodies, get things lifted, tucked, sucked and stuffed in order to look young again. But the old birds at 60 Plus MILFs seem to have the right idea about how to stay young. The saying goes that you're only as young as you feel, and with how many young cocks these MILFs and even GILFs are feeling inside their fuck holes, they must be feeling pretty young! All along this site, you'll see mature sluts who would normally be in the kitchen baking cookies for her grandkids, or knitting them a sweater for Christmas that they won't wear, instead seducing younger guys, and even girls around the neighborhood.
You may think, "I don't want to see some old bitch break their hip trying to ride a guy", but once you see the bodies on these old sluts, you'll think otherwise. They're quite fit because they know they need to be in peak condition to take on some of the massive dicks they're finding. There's even lots of interracial sex here, with black dudes finding that old white booty hard to resist, especially when she's on her knees sucking you off. You're going to want to find a fuckable granny all your own after seeing these videos and picture sets, especially with high definition videos available here! Plus, you get bonus access to 50 Plus MILFs, which will be the next group of over 60 sluts soon enough!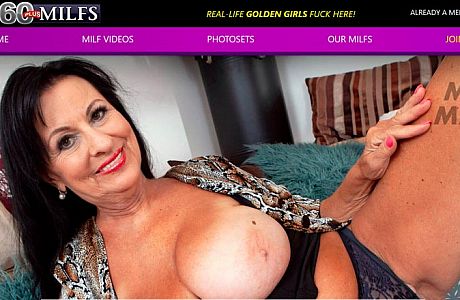 MILF bonus site
exclusive content
57 models
Visit site