The finest FemDom site on the web, men become desperate slut boys for the pleasure of women their cocks, balls, asses and mouths available for torture, strap-on fucking.
There are girls who say that they rule all the guys they're with, and then there are the kind of girls that don't need to say a damn thing, because their actions prove it time and time again. Hell, you don't even need to watch the videos; you just need to hear these men groan and scream in uncontrollable pain as they're put through the wringer by their mistresses. Sure there are spankings and abuse at Divine Bitches, but that's where most sites end, while that's just a warmup here. You can tell from the looks on their faces that these mistresses mean business, and love the work that they do when they tie up their slave boys and turn them into crybabies, as their asses are abused and fucked, and their dicks are teased and beaten purple.
The action here is enough to make you cringe in fear, but of course not make you want to stop watching. Every inch of these guys are used to the woman's advantage, like for starters, the mouth. You get some facesitting, toe and foot sucking, ass licking, and much more. Then of course the cocks come into play, although not like these guys would have hoped. Their dicks are tied up, kept under lock and key, wrapped in weights, and just generally abused by these cruel mistresses. But nothing is as bad as what happens to their assholes! You'll have guys with virgin asses getting fucked deep by a strapon, a fist, a dildo, anything they can use to inflict damage to their colons! See the torture here at Divine Bitches, and see it all in HD video.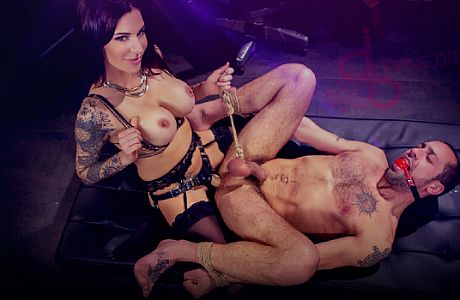 Visit site