The heaven of BDSM for real submissive women and real submissive men become house slaves to be dominated, trained, punished, spanked, whipped, and fucked. Unique live HD fetish.
Whenever you hear a term like The Upper Floor, you think of a secluded spot where not many people can gain access to. But of course everyone wants to get there, thinking that it's getting them closer to some kind of heavenly event. For these BDSM lovers, their idea of heaven is to feel like they belong to something, and that takes a lot of submission and slave work in order to get there. That's why here at The Upper Floor, these girls are preparing themselves to begin a life of total submission, as their lives are getting ready to change to an all day, every day BDSM extravaganza.
This Top Floor is brought to you by the people at Kink, who take their BDSM and fetish action very seriously and always professionally. You're not going to be seeing girls playing around, having a good ol' time while someone giggles and playfully smacks their butts. This is as hardcore as BDSM gets, with real slaves being led around with leashes, having their bodies chained up and tied up tightly so that every move they make is restricted. Their loyalty to their master is tested well here, as they prove just how much punishment they'll take from them. They also get fucked plenty here, as you'll see girls in group settings being tied up or held down by other slaves while they're fucked with dildos and cocks. They do tons of live shows every week, so you can always drop by and see who is getting trained for a lifetime of servitude next. The collection is growing by leaps and bounds, so gain access to The Upper Floor today. And they call it the real lifestyle domination and submission.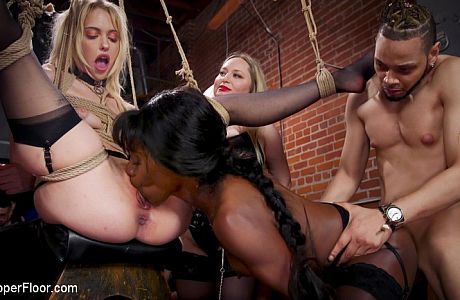 Original and creative content
Access to network
Visit site